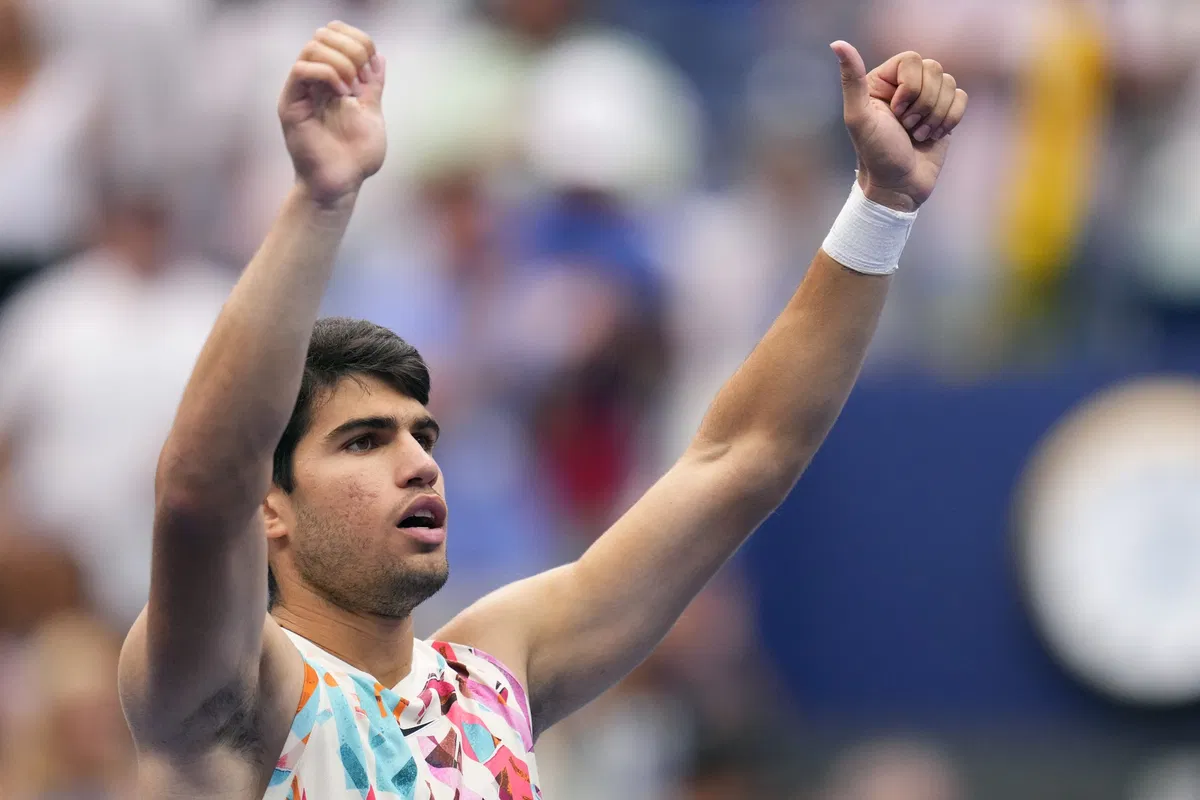 Top seed Carlos Alcaraz defeated Alexander Zverev in straight sets on Wednesday to cruise into the US Open semi-finals and keep his title defence on track.
The Spaniard will play third seed Daniil Medvedev on Friday for a place in the final after sweeping Zverev aside 6-3, 6-2, 6-4 in another clinical performance.
Alcaraz was not at his spectacular best but dominated at critical moments with Zverev perhaps feeling the effects of a 4hr 41min outing in the last 16 in the tournament's longest match so far.
The world number one converted all four of his break points, while Zverev failed to take any of his five chances.
"I'm feeling really comfortable playing on this court, playing in New York," said Alcaraz, who has dropped just one set en route to the last four.
"I'm feeling strong. I think I'm ready for a great battle against Medvedev."
The 20-year-old Alcaraz is now 24-1 in his last four Grand Slams going back to the start of last year's US Open. His only loss in that time came to Novak Djokovic in the French Open semi-finals.
Zverev sensed an opportunity when he twice brought up break point in the seventh game, but Alcaraz held firm and then rubbed salt in the wound by smashing a volley at the net to dart 5-3 ahead.
A comfortable service game earned Alcaraz the set and he didn't wait long to hammer home his advantage, whipping a crunching backhand to break for a 2-1 lead in the second set.
The top seed punished a Zverev double fault by breaking once more for 5-2, cemented with a one-two combination of blistering forehands.
Alcaraz snuffed out a breakpoint in the second game of the third set, thwarting Zverev twice more two games later — continuing the theme of raising his game throughout when it mattered most.
He needed no second invitation when another opening presented itself on Zverev's serve at 4-all, slashing a wicked forehand to close in on victory before serving it out for a spot in the semi-finals.
 Zheng left in shade
Wednesday's play got under way earlier in blazing sunshine on Arthur Ashe, where China's Zheng Qinwen struggled before being overwhelmed by second seed Aryna Sabalenka 6-1, 6-4.
Zheng said the partially closed roof on Arthur Ashe — a move designed to protect spectators from the sun — had caused her problems, making it hard to focus on the ball with shadows darkening part of the court.
"I hate that different half-shadow, half-sun," Zheng said. "Because I feel that's also bad, I mean, my eyes."
Sabalenka however had no difficulty in adapting, with the Belarusian dominating her opponent with a powerful service game that sends her into a last four meeting with 17th seeded American Madison Keys.
Sabalenka was assured of replacing Iga Swiatek at the top of the women's rankings after the Polish No.1 crashed out of the US Open on Sunday.
However Sabalenka said she is not thinking about her new-found status as the world's top player just yet.
"Of course I'm happy … it's incredible for me and my family.
"But I have some things still to do in New York this year and I'll think about becoming No.1 after the US Open."
Sabalenka now faces another Grand Slam clash with Keys after beating the American in the quarter-finals at Wimbledon in July.
Keys, who reached the US Open final in 2017, advanced to the last four after defeating Wimbledon champion Marketa Vondrousova of the Czech Republic 6-1, 6-4.
Vondrousova was left ruing her failure to convert any of nine break points that came her way, while Keys was a perfect three-from-three on break points.
"I love playing here, in front of a home crowd — you never feel like you can't get out of any situation," Keys said.
Vondrousova said she had struggled to cope with the power of Keys' serve and groundstrokes.
"I felt like I was under so much pressure from the first point," Vondrousova said. "There wasn't so much to do, honestly. It was very tough. I was just trying to fight, run for every ball. She was just too good."
The match was halted in the first game of the opening set after a spectator required treatment for a medical emergency. US Open organisers later said the incident was not heat-related.