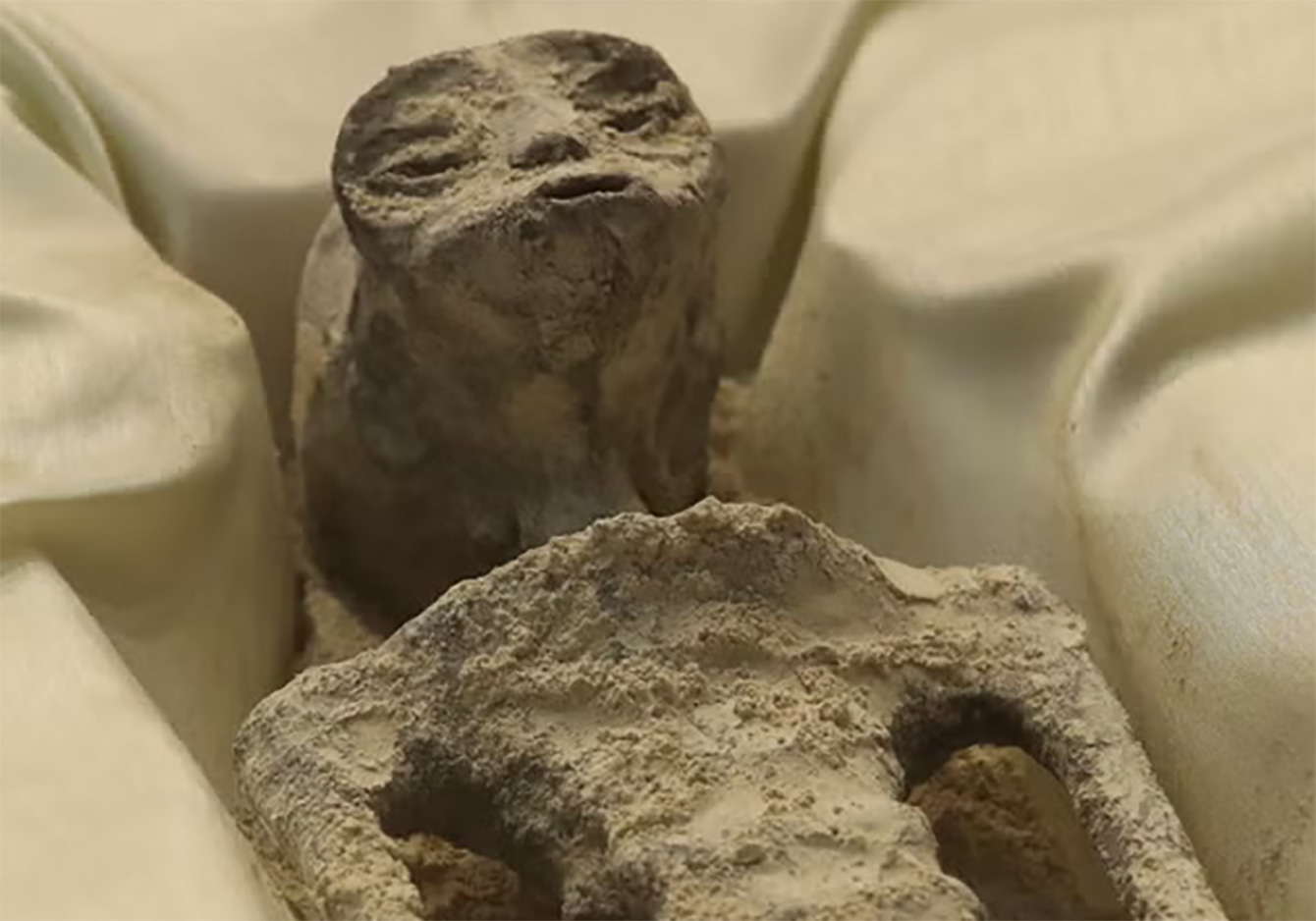 Mexico's Congress saw an official event where two "alien corpses" were unveiled in Mexico City.
The official "unveiling" of the two alleged "alien corpses" was carried out by ufologist Jaime Maussan.
The two small "corpses" were displayed for all observers. Organisers claimed that the small mummified specimen were a thousand years old and had been "retrieved" from Cusco, Peru.
Maussan told members of the Mexican government that "UFO specimen" were studied at the Autonomous National University of Mexico, where scientists, he stated were able to draw DNA evidence using radiocarbon dating.
He was quoted saying by Marca.com: "These specimen are not part of our terrestrial evolution… These aren't beings that were found after a UFO wreckage.
They were found in diatom (algae) mines, and were later fossilized."
Jaime Maussan is a journalist, TV personality, and UFOlogist who was involved in the analysis of 5 mummies discovered in Nazca, Peru in 2017. The mummies were crouched humanoid figures with three fingers on their hands and feet, and dubbed 'aliens', a theory that was debunked. According to a report in Snopes.com, the discovery was hokum and the mummified corpse was believed to be that of a child.
The report adds: "The previous discovery of mummies with elongated skulls in Peru, like that shown in the Gaia video, has prompted similar wild speculation about alien species. But anthropologists have explained that elongated skulls are the result of an ancient practice of artificial cranial deformation, in which young children had their heads bound in cloth, rope, or even wooden boards, possibly as part of a religious ritual."
The Nazca Mummy UFO Theory was also debunked by several other researchers. In fact, according to a report in LiveScience.com, the hands and feet seen on the mummy could've been manipulated by forgers, with white coating added afterwards to hide the manipulations.
In fact, a dozen Peruvian mummy researchers wrote a letter condemning the practice, saying it has "violated numerous national and international norms".
UFOs have been in the talk of town for some time and even made an appearance during the GOP debate recently when Chris Christie was asked if he'd be honest about UFOs if he became the US President. The question was asked by moderator Martha MacCallum, also from New Jersey. This led Christie to observe: "Especially coming from a woman from New Jersey, I think it's horrible that just because I'm from New Jersey, you asked me about unidentified flying objects and Martians. We're different but we're not that different."
Refusing to take the bait further, Christie had said, that it was the POTUS' job to be honest, whether it was about UFOs or education. He said: "The job of the president of the United States is to level with the American people about everything. The job of the president of the United States is to stand for truth."
Whistleblower claims Uncle SAM lying about UFOs
A few months ago, a whistle-blower claimed that the U.S. is concealing a longstanding program that retrieves and reverse engineers unidentified flying objects, a former Air Force intelligence officer testified Wednesday to Congress. The Pentagon has denied his claims.
Retired Maj. David Grusch's highly anticipated testimony before a House Oversight subcommittee was US Congress' latest foray into the world of UAPs — or "unidentified aerial phenomena," which is the official term the U.S. government uses instead of UFOs. While the study of mysterious aircraft or objects often evokes talk of aliens and "little green men," Democrats and Republicans in recent years have pushed for more research as a national security matter due to concerns that sightings observed by pilots may be tied to U.S. adversaries.
Grusch said he was asked in 2019 by the head of a government task force on UAPs to identify all highly classified programs relating to the task force's mission.
At the time, Grusch was detailed to the National Reconnaissance Office, the agency that operates U.S. spy satellites.
"I was informed in the course of my official duties of a multi-decade UAP crash retrieval and reverse engineering program to which I was denied access," he said.
Asked whether the U.S. government had information about extraterrestrial life, Grusch said the U.S. likely has been aware of "non-human" activity since the 1930s. (Hindustan Times)
Mexico is unboxing aliens 👽😂. pic.twitter.com/OrToUTjShX

— Davidi Ohmbra (@iohmbra) September 13, 2023