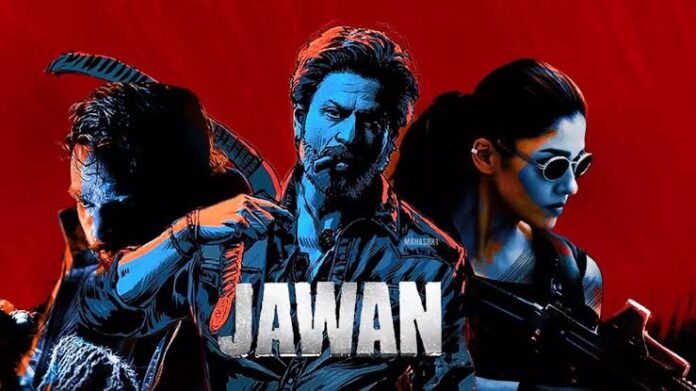 A Shah Rukh Khan film releasing is nothing short of a festival, and I say this with utmost surety because it's not everyday that you see a theatre housefull for a 6am show. After starting the year with a bang with a blockbuster Pathaan, SRK's Jawan goes one level up – both on being overtly dramatic and loaded with high-octane action. Writer-director Atlee presents Khan in an all-new avatar – rough, tough, gritty yet not without his impeccable wit.
Jawan is an SRK show from start to end, and it's double the treat watching him in a dual role. From his heroic entry scene to the fights to dance numbers, there's nothing that he can't do and makes you believe in it as well. At 57, turning 58 in November, SRK bowls you over with his action. Given the amount of action he has done in Jawan, it appears that Pathaan was a mere teaser. Atlee makes sure he doesn't disappoint audiences in his Hindi directorial debut, as he blends all the elements of commercial cinema to build a massy entertainer.
Jawan doesn't conform to any set templates or tropes and mixes everything that makes for an engaging and entertaining watch. Mention commercial, masala potboiler with action, drama, song and romance and Jawan has it all in abundance. I won't even say don't apply brains, please do because it highlights some important topics. The nearly 3-hour long film tells a compelling tale of prevalent corruption at various levels in the system that affects the common man in the most brutal ways. Thankfully, at no point it gets preachy, though it goes into a social commentary zone for a while, especially with a monologue from SRK towards the end.
Jawan's non-linear narrative starts in the present day and moves 30 years ahead and then uses flashback to explain the why and how. I won't share highlights of the plot for they may get spoilery. But, one can safely say that Jawan is not entirely a revenge drama but every sequence is a short story in itself with an elaborate flashback reasoning the current actions. Somehow, that also seems to be a problematic thing for I missed the consistency in storytelling. Jawan doesn't let you stay on one story for too long and hops on to the next too soon, thus breaking the flow.
What's consistent in Jawan is the top-notch and intricately choreographed action that offers an absolute cinematic experience. All the hype about Bollywood meets South makes sense when you see so much south ka tadka, especially in slo-mo shots, gravity-defying action with men flying and hero with his demigod status. A full-on actioner, it takes on the burning topic of farmer suicides over non repayment of smallest of bank loans. Given what the country went through in the past year witnessing mass farmer protests, the subject instantly strikes a chord, and makes you think hard. There this one moment showing a farmer hanging himself from a tree, and that spine-chilling scene leaves you heartbroken.
Another time, Jawan touches upon the corruption in healthcare system and the sad conditions of government hospitals. The film switches tone from being an actioner to a lighter tale in no time. There are two parallel stories running simultaneously. In one, Narmada (Nayanthara), head of Force Once is looking for Vikram Rathore (SRK) who put the lives of 376 passengers at risk while pulling off a perfect hijack. The second story shows Narmada and Azad Rathore (also SRK) falling for each other. Meanwhile, the baddie, Kalee (Vijay Sethupathi) an arms dealer, has a history with Vikram Rathore and Azad gradually becomes a part of their story.
SRK's army of girls is the backbone of Jawan and it's heartening to see that each of them get enough screen time to shine and form an integral part of the film's story and screenplay. Doctor Eram (Sanya Malhotra) was wrongly framed in the killing of 57 innocent kids and ends up in prison while Kalki (Lehar Khan) as a farmer's daughter wants to avenge her father's death. Helena (Sanjeeta Bhattacharya) the ethical hacker and Lakshmi (Priyamani) as the girl-next-door have interesting character arcs. Along with their chief, all these girls showcase determination, conviction and grit.
For each stunt he plans, SRK dons a new look and much to the delight of his fans, he aces them all. Especially that metro hijack sequence where Khan sported a bald look that created enough buzz after the teaser dropped, shows him like never before. As a young Azad, he wooed with his lover-boy image and as Vikram with grey hair and a cigarette in his mouth, he carries unmatched swag.
Matching SRK's stardom, Vijay Sethupathi brings his own charm and gravitas. His portions are powerful and menacing. In his young as well as aged avatar, Sethupathi doesn't let go of the fear he evokes with his presence. His confrontation scene with Vikram ahead of the climax is brilliantly written and shot with a tinge of humour. Nayanthara brings freshness and is greeted with a slo-mo shot each time she comes on screen. Sadly though, her chemistry with Khan fails to ignite any sparks and it's quite bland. Deepika Padukone, on the other hand, as Vikram Rathore's wife Aishwarya, in a special appearance, is a treat to watch. There's even a dance number featuring the two, giving full-on Chennai Express nostalgia. Sunil Grover as officer Irani is a revelation and you wish there was more of him on screen and more for him to do.
Jawan's screenplay by Atlee and S. Ramanagirivasan is engaging and gripping but Sumit Arora's dialogues are quite forgettable and average considering the scale the movie is mounted on. Other than the one line when SRK says, 'Bete ko haath lagane se pehle baap se baat kar' nothing really stays with you for long.
Nevertheless, Jawan is a wholesome watch that won't give you any dull moment. Keep your eyes and mind focused on screen for there's a lot to take in and you don't want to miss the action or know why it's happening in the first place. Watch out for a climax that's one paisa vasool moment.